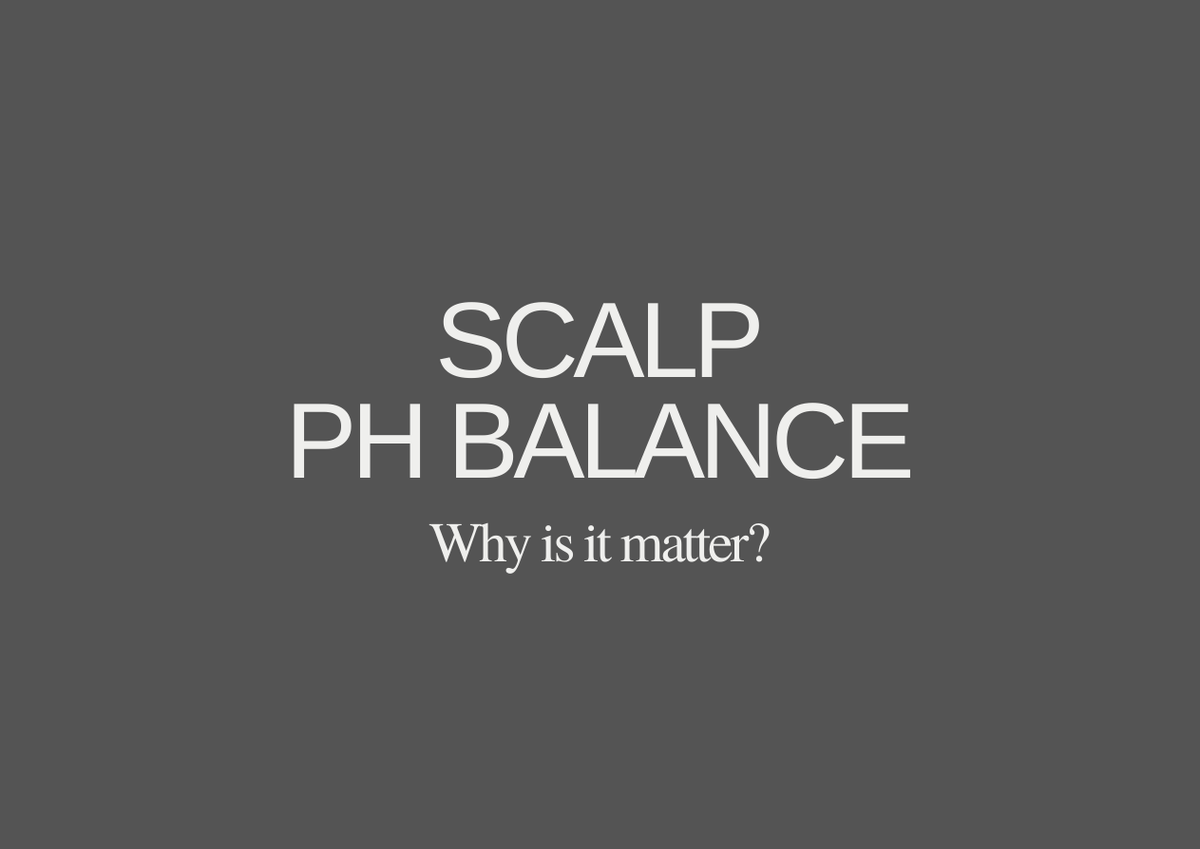 Keeping your scalp at its right pH is important for the general healthiness of your hair. Whether you're dry, oily or a combination scalp, let's look into how these problems impact our scalp pH.
Scalp pH Balanced? Not the Lucky 7 We know.
On the pH scale, 7 is neutral - but this doesn't apply to our scalp pH. PH balanced is when our scalp is maintained at its natural pH level (5.5). Our scalp is slightly acidic in order to fight fungi and bacteria. We will experience fewer scalp problems as the scalp is producing the right amount of oil and also retaining the right amount of water.
What Happens to An Imbalanced Scalp?
When our scalp loses its balance, we will experience different scalp problems including dandruff, sensitivity and excessive sebum production. Namely, we will experience Dry Scalp or Oily Scalp.
Dry Scalp and Oily Scalp happen when your scalp is overly dry or overly oily. That's the time when the scalp is out of balance.
Understanding The Scalp pH Scale
Oily Scalp, more Acidic (< pH5.5)
When our scalp pH value drops down below 5.5, you will probably have an oily or combination scalp. You might also experience scalp acne, flaky dandruff and scalp itchiness before bathing.

Our recommendations |
Scalp Balance Shampoo & Elixir 7 Botanical Scalp Treatment

Things to Beware of |
Cultivate good personal hygiene
Scalp hygiene plays an essential role for those who have oily/combination scalp. Shampoo daily and bathe after your exercise session. Clean your comb regularly before you brush your hair as the comb can be a potential collector of debris, bacteria and other unseens.
---
Normal Scalp, The Perfect State (pH5.5)
To those who have a normal scalp, congratulations! You have been doing well in your hair care routine. Make sure to double shampoo to keep your scalp squeaky clean all day long!

Our recommendations |
Daily Moisture Shampoo

Things to Beware of |
Direct Exposure to Sunlight
A normal scalp is normally cleared from flakes & irritation, but don't forget the hidden killer of all time: UV lights! Wear a hat when you're outside and apply products contain SPF to shield up your cuticles.
---
Dry Scalp, more Alkaline (> pH5.5)
Don't fret if your scalp is desert-dry - we are here to help! You might experience dry hair, powdery dandruff, itchiness after bathing and even irritation when things get bad.

Our recommendations |
Daily Moisture Shampoo & Pure Organic Argan Oil

Things to Beware of |
Harsh Chemicals & Colouring Agents
Chemical treatments can affect the pH of your scalp and hair. They can raise the alkalinity, making your scalp dry and sensitive. Reduce any unnecessary treatments to keep your scalp balanced & hydrated.
Our Two Cents
Understanding how pH levels affect our scalp is vital to keep it healthy, strong and balanced. Natural ageing, sun, pollution, and water are all factors we can't control when it comes to scalp imbalanced. However, using incorrect products should be adding to the problems. Most of the quality green products are formulated with the right pH for our scalp needs. Let's keep a basic understanding of how the scale works and choose only the essentials for our body.