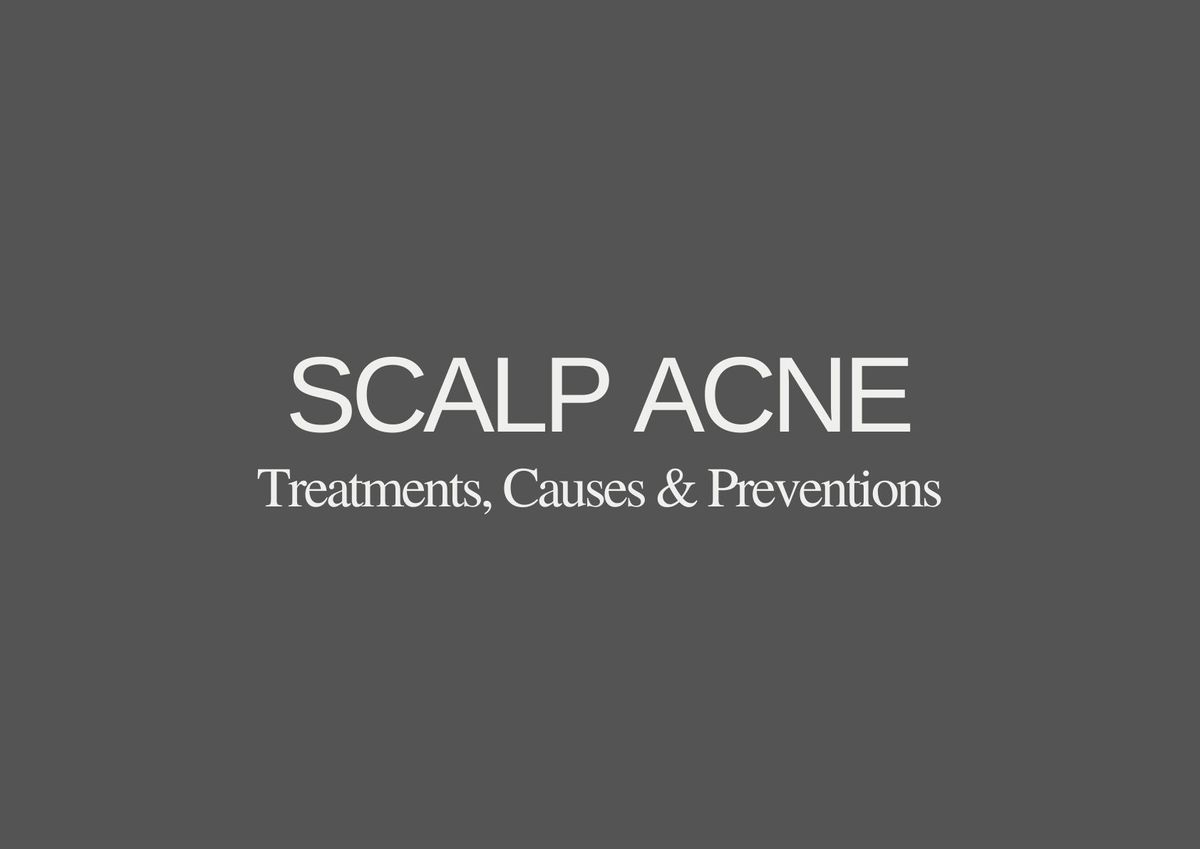 Have you ever encountered a few bumps on your scalp? It's sore, painful & sometimes it can be quite itchy and irritating! That's what we call: Scalp Acne.
Scalp Acne, often known as pimples, grows around the hairline or underneath your hair. On a more technical tip, scalp acne is formed by excessive buildup & sebum whereas our pores are clogged or inflamed. At times, it can also be caused by bacteria, fungal or other infections.

Just like our facial pimples, scalp acne is very common but it can be troublesome as we can only feel the soreness without looking directly at it.

In this article, let's look at how to identify scalp acne, the causes, the treatments & the preventions.
Types of Scalp Acne & The Causes
Scalp acne appears as small pimples or zits on the scalp and back of the head. These pimples can be painful and itchy.

Like our standard pimples, scalp acne occurs when our scalp is overly dry or oily.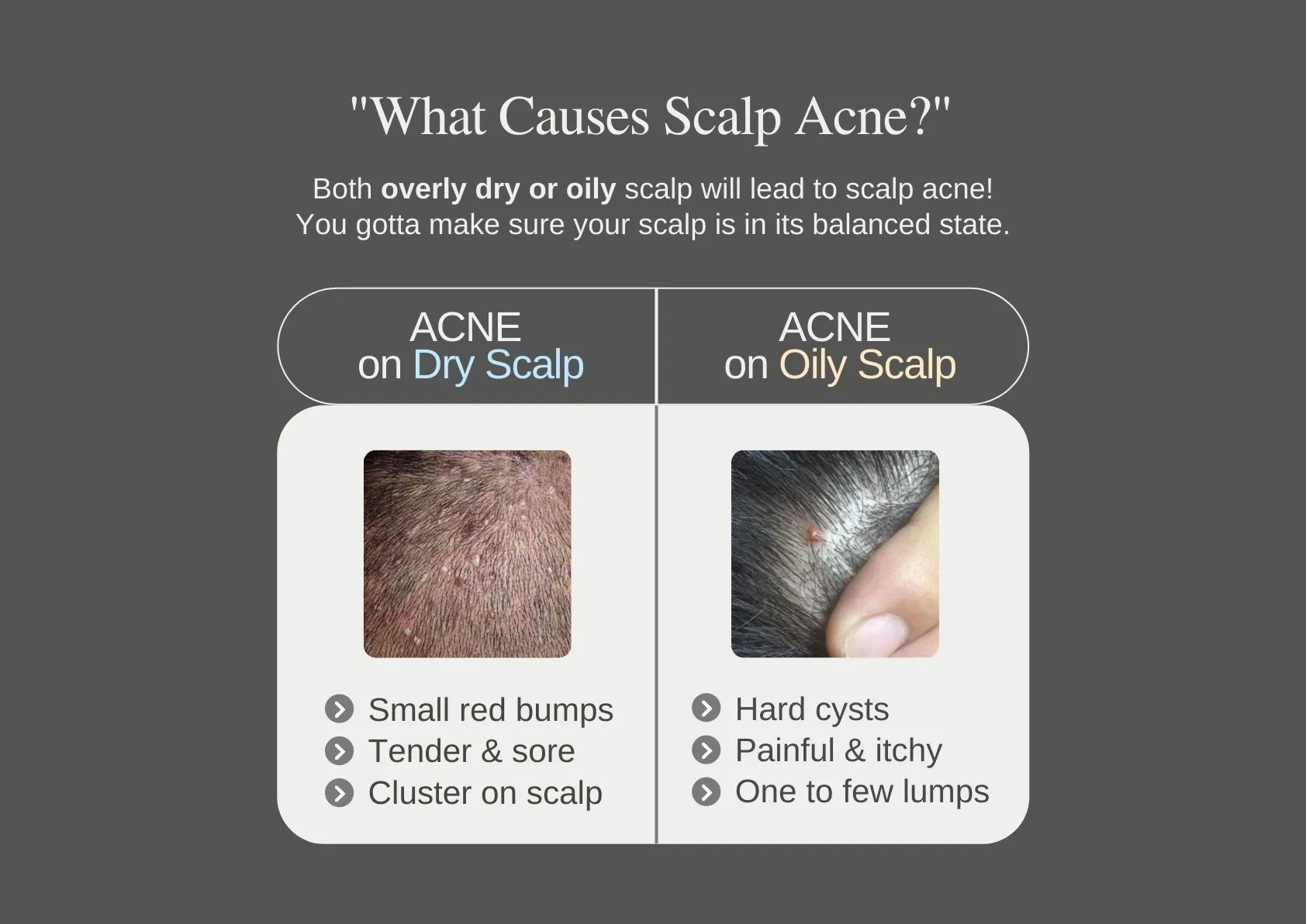 1. Acne on Dry Scalp
Often known as a type of papules, the red lumps grow in clusters on our scalp - which will lead to irritations & soreness. The papules are small, and usually more than one.
2. Acne on Oily Scalp
When your scalp is loaded with oil, this will create a perfect environment for bacteria that will eventually lead to cysts, a large pus-filled lump that looks similar to boils. Cysts are the most severe type of spot caused by acne. They are huge, painful and hard.
Preventions
No matter what type of scalp acne you have (dry or oily), acne affects your emotions and self-esteem! Here are some precautions to help you to get rid of pimples!
Preventions for Dry Scalp
✦ Avoid chemical treatments
Guess that we have been repeating how chemical treatments will lead to hair & scalp dryness a million times. These chemical treatments such as rebonding or colouring will cause tremendous harm to your hair, leaving your hair dry and coarse.
✦ Maintain Good Diet Habit
You are what you eat - this is pretty true when it comes to scalp health. An intense weight-loss diet will lead to scalp acne as your body might be losing some essential nutrients. Salmon is a great source of Vitamin D and omega-3 fatty acids. Fatty acids are very much essential to keep your scalp well hydrated!
✦ Exercise regularly to avoid over-stress
Though stress affects everyone differently, one thing appears to be universal: stress wreaks havoc on the scalp. When you are stressed, your body is more prone to bacterial and hormonal imbalances, which can lead to a dry and irritating scalp.
Preventions for Oily Scalp
✦ Shampoo daily
Wash your hair daily especially when it starts to feel oily and after every workout. Avoid using dry shampoo as it only makes your scalp feel less oily, but the buildup and sebum are still staying in your follicles! Shampoo your scalp twice to make sure it is squeaky clean.
✦ Cultivate good personal hygiene
Scalp hygiene plays an essential role in avoiding clogged pores. Use clean water to wash your hair with a suitable shampoo. Massage your scalp well & rinse thoroughly. Clean your comb regularly before you brush your hair as the comb can be a potential collector of debris, bacteria and other unseens.
✦ Avoid using hot water to wash your scalp
Rinsing with hot water results in taking away essential oils and moisture from your hair. This can leave your scalp dehydrated and hair frizzy and static. The ideal temperature to wash your hair: 37°C, which is just above normal body temperature. In another word, lukewarm water is best for your daily hair wash.
How To Get Rid of Scalp Acne?
Cultivating a good (and suitable) hair care routine can help you to minimize scalp acne. If your scalp acne is caused by using the wrong shampoo or cosmetics, stop using them and switch to a natural option.
For Dry Scalp Acne

Who says exfoliation is a pass for dry scalp? We all know scalp acne is often caused by excessive buildup - and it can be flakes, debris and dandruff that appears on a dry scalp. Hence, a mild & nourishing exfoliation is a must for you to remove the impurities.
Recommendations
Weekly Scalp Exfoliation | Pure Organic Argan Oil →
Shampoo | Daily Moisture Shampoo →
For Oily Scalp Acne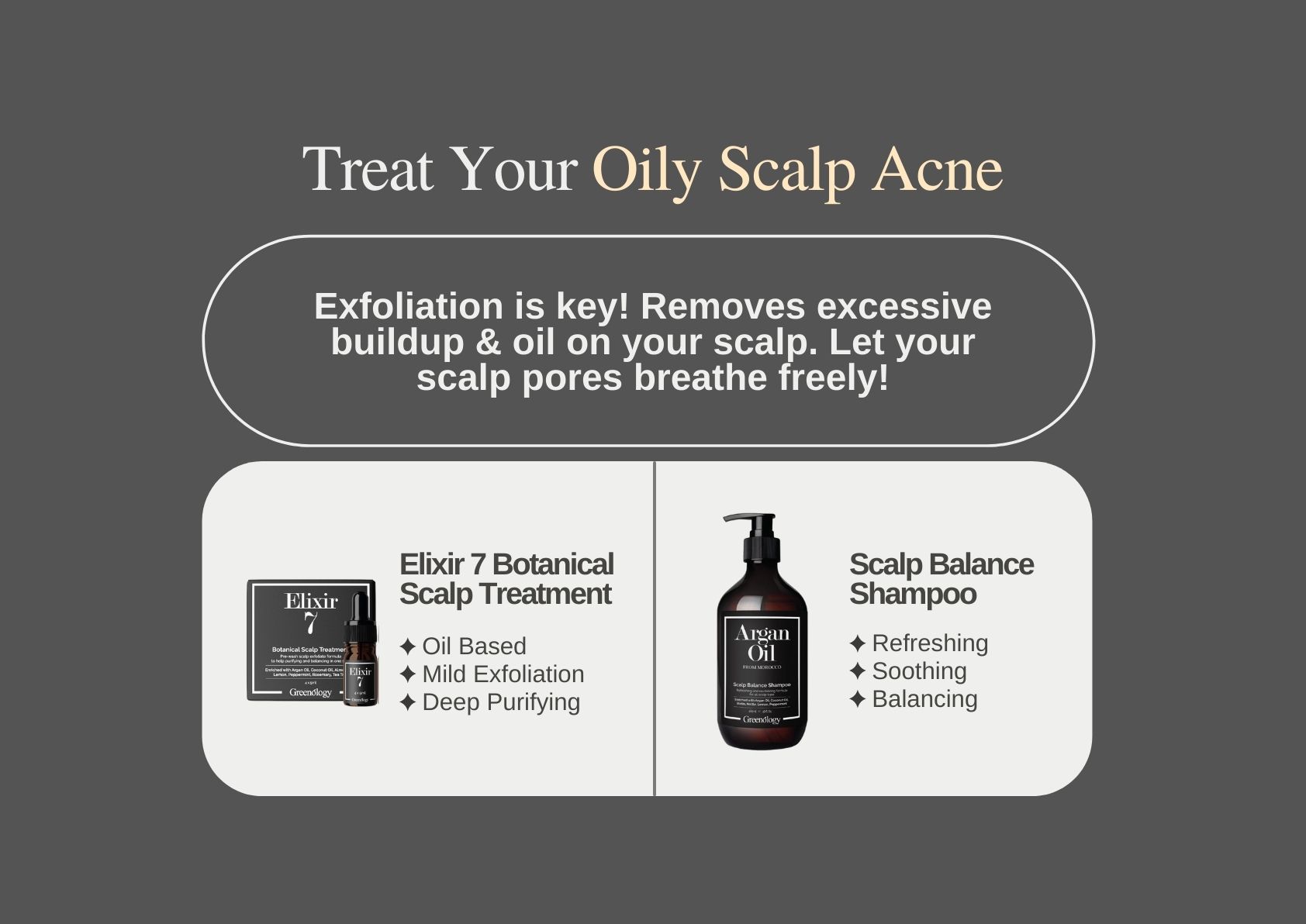 Buff away the oily residues to keep your scalp light and refreshing - here's the time where a purifying & balancing exfoliation comes into play. Rinse your scalp properly to keep your scalp oil-free all day long.
Recommendations
Weekly Scalp Exfoliation | Elixir 7 Botanical Scalp Treatment →
Shampoo | Scalp Balance Shampoo →
Outlook
Pimples on the scalp are fairly common and are treated in the same manner as acne on other parts of the body - by cultivating a good hygiene habit & using the right products. Just making a switch to your daily and hair routine can help you to get rid of the problem without any other treatment. In many cases, taking preventive measures can prevent the recurrence of scalp acne.

Don't over worry. Face It. Treat it. The acne will fade away over time.