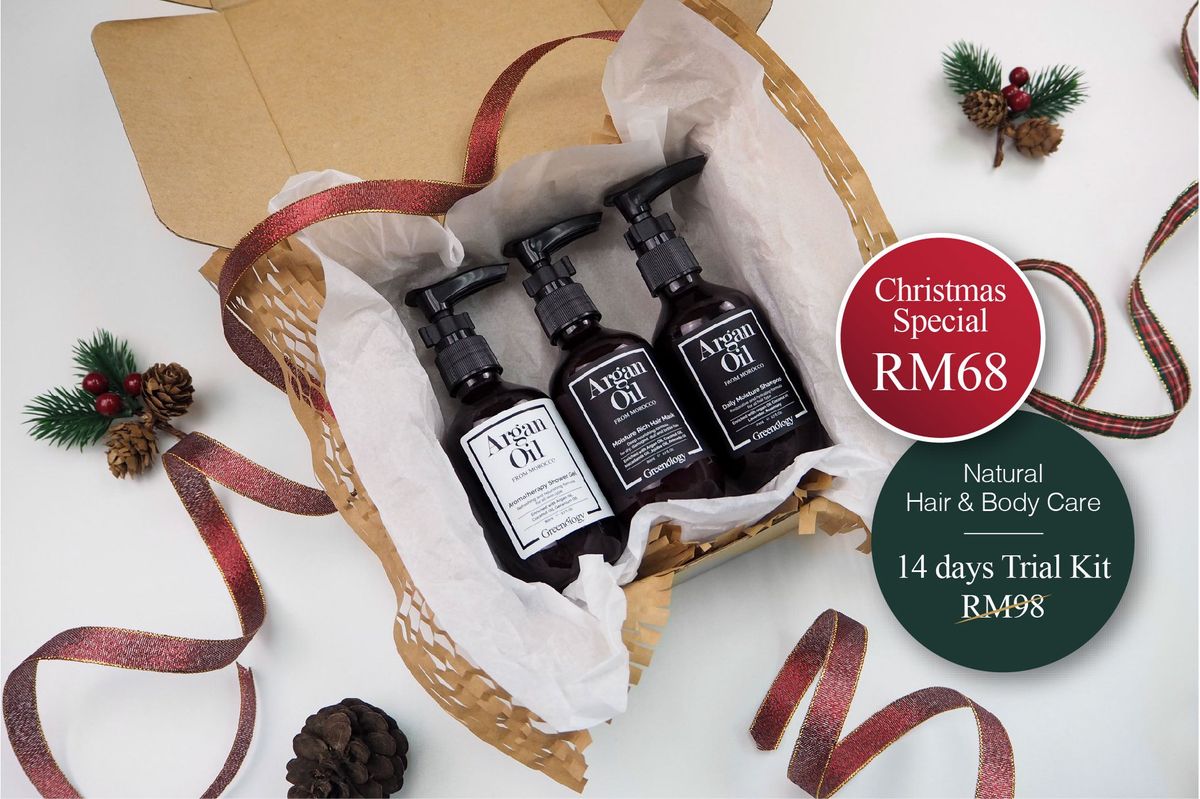 𝗪𝗵𝗲𝗻 𝘄𝗮𝘀 𝘁𝗵𝗲 𝗹𝗮𝘀𝘁 𝘁𝗶𝗺𝗲 𝘆𝗼𝘂 𝘁𝗿𝘂𝗹𝘆 𝗽𝗮𝗺𝗽𝗲𝗿𝗲𝗱 𝘆𝗼𝘂𝗿𝘀𝗲𝗹𝗳?

2020 has been a rollercoaster year for most of us. And now, we know you need a lift after an exhausting year!
Start loving yourself for having a spa-level bathing experience at home with this All-Green Starter Kit:
Self Love No.

𝗗𝗮𝗶𝗹𝘆 𝗠𝗼𝗶𝘀𝘁𝘂𝗿𝗲 𝗦𝗵𝗮𝗺𝗽𝗼𝗼
Argan Oil and Coconut Oil provides you with the right natural hydrating ingredients which will leave your hair glowing, smooth and healthy.
Self Love No.

𝗠𝗼𝗶𝘀𝘁𝘂𝗿𝗲 𝗥𝗶𝗰𝗵 𝗛𝗮𝗶𝗿 𝗠𝗮𝘀𝗸 𝟴𝟬𝗺𝗹
Infused with Argan Oil, Avocado Oil and Macadamia Oil, the Moisture Rich Hair Mask can deeply hydrate and repair your hair by improving the hair texture! This hair mask can also work as a daily conditioner on your hair routine!
Self Love No.

𝗔𝗿𝗼𝗺𝗮𝘁𝗵𝗲𝗿𝗮𝗽𝘆 𝗦𝗵𝗼𝘄𝗲𝗿 𝗚𝗲𝗹 𝟴𝟬𝗺𝗹
Indulge yourself in our Aromatherapy Shower Gel that comes with a relaxing, calming sweet scent. Formulated with Argan Oil and Geranium Essential Oil, this shower gel feeds your skin deliciously silky hydration and skin-fresh nourishment in every wash.
Feeding your hair and skin the right skin food is a ritual of Self-Love. Our Hair Care Starter Kit is 100% plant-derived, and they are:

FREE of SLES, Mineral Oil, Paraben and Colourant,

which means it's completely SAFE & MILD for your hair and skin!
Give the gift of skin bliss, to you and someone you loved:

Christmas Special | Hair Care Starter Kit RM68 (NP RM98)

Designed for all hair and skin types

14 Days Usage & Easy for Traveling

Comes with Christmas packaging

Perfect for gifting!

Pamper yourself today.
Gift a potent dose of self-love to yourself now on
---