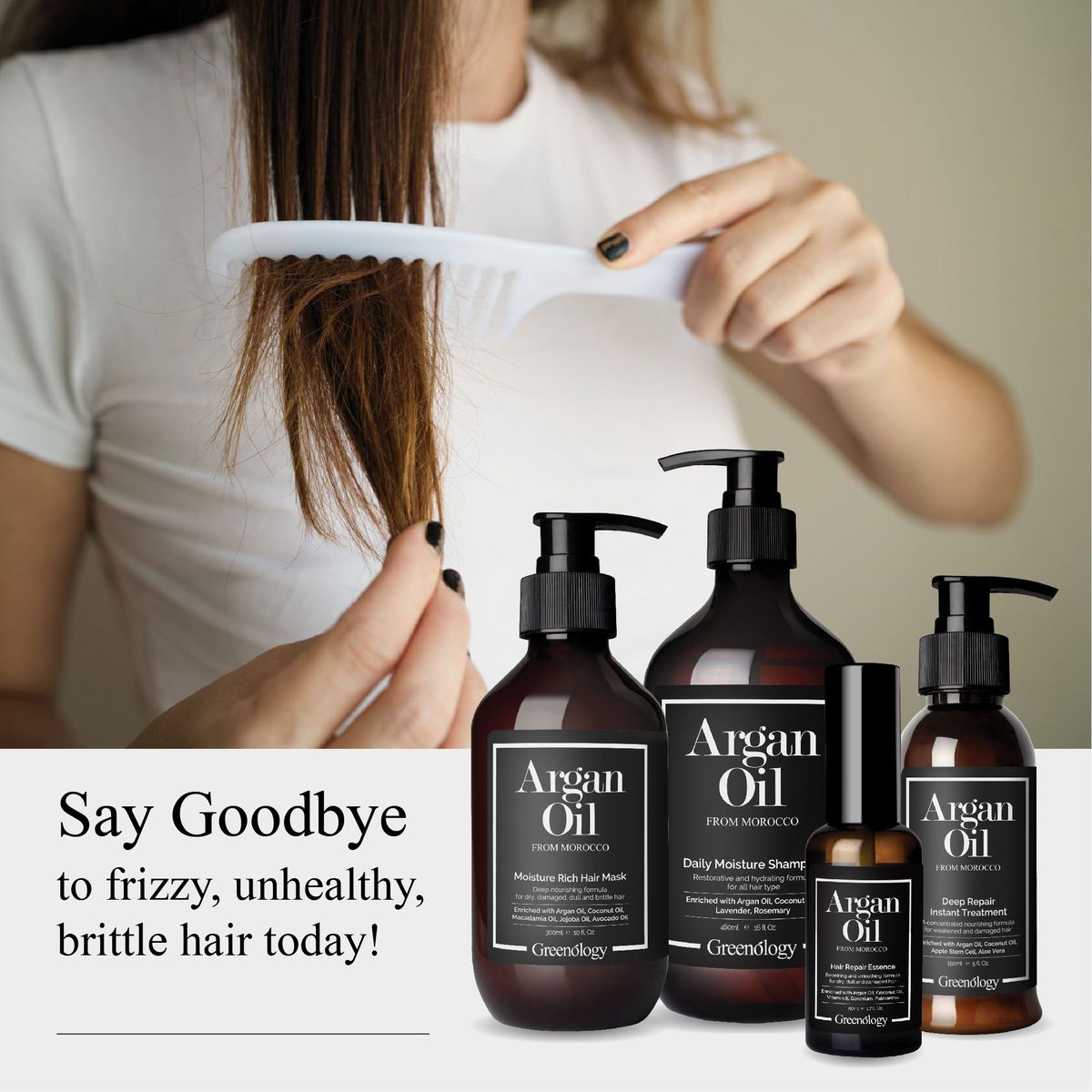 The most annoying thing to do every morning:
Deal with your tangled hair!
We know there are a lot of other things you'd rather be doing with your time than working at getting knots out of your hair.

We feel your pain and anger!

Do you still want problem like this to borther you anymore?
If you are someone who want to get rid of fizzy, damaged and unhealthy hair, all you need is just these 4 products in you life.

· Daily Moisture Shampoo ·
✓ pH5.5 mild & natural shampoo that provides your hair and scalp intense hydration
✓ Argan Oil - helps to strengthen your hair
✓ Coconut Oil - provides superior hydration, frizz control & adding brilliant shine.

How to Use | Apply on wet hair, massage and rinse thoroughly.

· Moisture Rich Hair Mask ·
✓ The Frizz Killer!
✓ Coconut oil - transforms your hair by improving its texture, manageability and shine
✓ Argan oil - provides natural protection against chemical treatments.

How to Use | Apply on hair for 5 minutes. Rinse thoroughly.

· Deep Repair Instant Treatment ·
✓ Enriched with Argan Oil and Apple Stem Cell which contains Vitamin E, C and Beta Carotene.
✓ Helps to strengthening, restore, rejuvenate and reduce hair breakage
✓ An instant treatment that give your hair soft, smooth and shiny

How to Use | Towel-dried hair and apply on hair to ends. Do not rinse.

· Hair Repair Essence ·
✓ Natural Argan Oil and Vitamin E able to penetrate the hair shaft and repair damaged hair
✓ Very lightweight essence contains SPF15 UV filters that help to protect your hair against sunlight
✓ Absorb fast without leaving your hair feeling greasy.

How to Use | Put desired amount on palm and rub to heat the essence. Apply to dry hair.


Say GOODBYE to frizzy, unhealthy, brittle hair today with Greenology.
Good hair day is on its way!