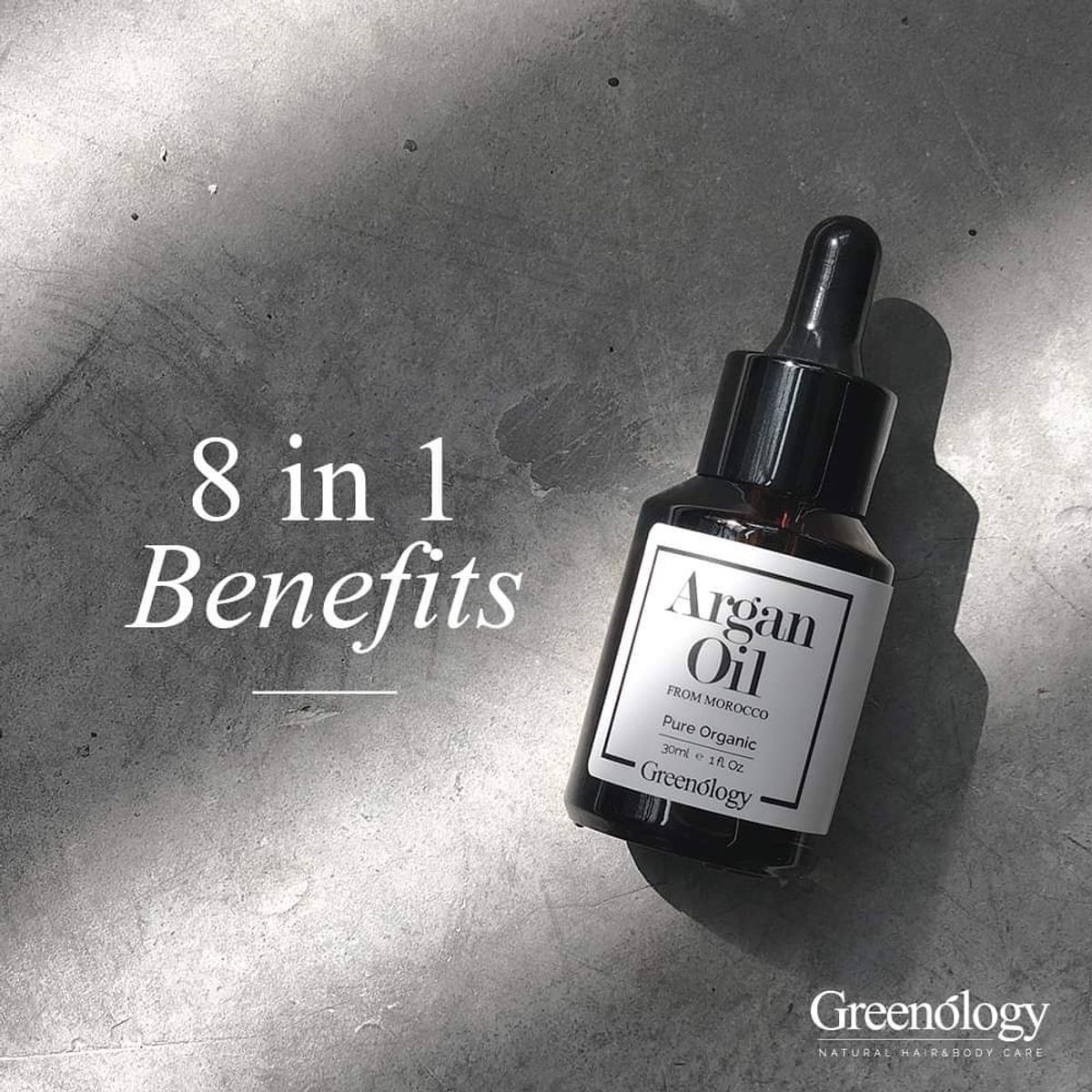 Can't afford a 24K Gold? Why not get yourself a 1️⃣0️⃣0️⃣% PURE 'LIQUID GOLD'?

The LIQUID GOLD is actually referring to ARGAN OIL from Morocco.
It is proven to be 200% more effective than olive oil in natural healing and anti-aging properties.

Plus, there are 8️⃣ main benefits in a 30ml bottle of 1️⃣0️⃣0️⃣% PURE ARGAN OIL:
✔️ Scalp Treatment
✔️ Hair Treatment
✔️ Body Oil
✔️ Acne Treatment
✔️ Makeup Remover
✔️ Lip Moisturiser
✔️ Foot, Hand and Nail Treatment
✔️ Face Moisturiser

This is why ARGAN OIL is often referred to as LIQUID GOLD!
The value of ARGAN OIL not only comes from its BENEFITS, but also its RARITY and EXTRACTION PROCESS.

Do you know? 🧐🧐🧐
❗️Argan tree can only be found in Morocco?
❗️Argan fruit kernels can only be extracted manually by human (machine will spoil the ARGAN OIL)?
❗️1kg of ARGAN OIL fruit can only produce 30ml of PURE ARGAN OIL?
Why choose Greenology's ORGANIC PURE ARGAN OIL?
👉It is cold pressed (no heat is involved) which preserves and makes sure you get the 100% vitamins and other nutrients of ARGAN OIL.
👉It is certified by Soil Association Certification Limited (UK), which means 'Organic & Cold Pressed at temperatures that never exceed 45 degrees Celsius by UK, a requirement that is stricter than other similar certificate that never exceed 60 degrees Celsius.

Greenology can GUARANTEE you not only the 1️⃣0️⃣0️⃣% purity of ARGAN OIL, and also its 8️⃣ in 1️⃣ benefits for you.

Sincerity is the only product of Greenology.


---
#Greenology #ArganOil #AllNatural #NaturalHairCare #GreenHairCare #NonToxic #Scalp #Hair #GoGreenologee
Image may contain: text