Warranty & Repair

Warranty Claims / Repair Service in 3 Steps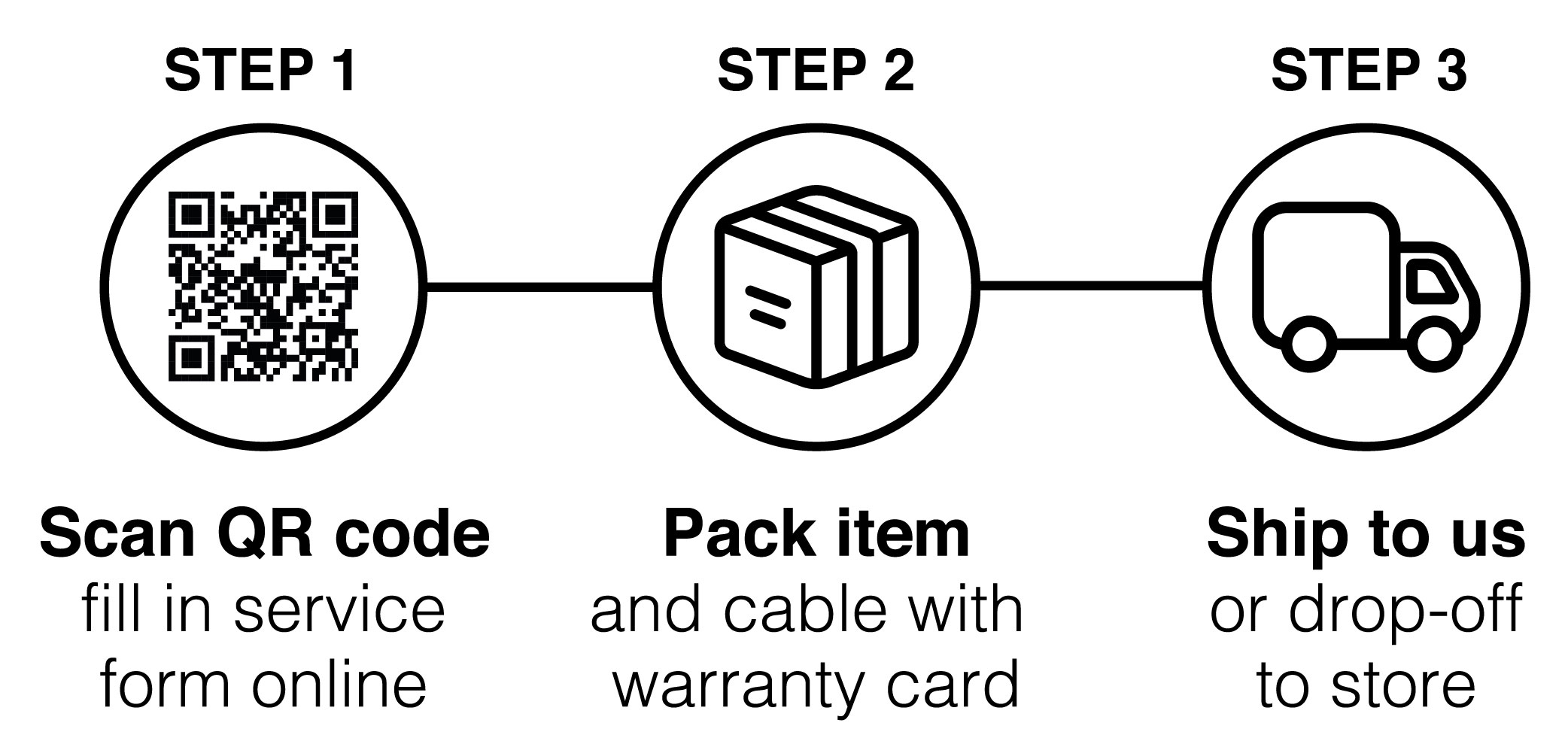 Warranty Claims & Repair Service
STEP 1 /
Scan QR code or click HERE to fill in the Service Form online.
STEP 2 /
Pack item, power cable with warranty card and ensure your parcel is properly packed to avoid damage during transit.
STEP 3 /
Ship the parcel to address below OR drop-off to store at Publika KL / Empire Subang / Pavilion Bukit Jalil.
G&C Distribution Sdn Bhd
LG.04, Level LG, Komplek Desa,
Jalan Kepong 52100 Kuala Lumpur, Malaysia.
+6018-205-5345
The Warranty Card is invalid unless it is filled up completely, correctly and the Purchase Date is validated by the Company Stamp.
When sending the product for servicing, please bring along the power cable and ensure that the product is properly packed to avoid damage during transit.
The duration of warranty claim or repair will usually take about 14 business days depend on the conditions.
When warranty or repair is completed, we will deliver back to your place. No return delivery charge is needed within Malaysia.
Item needs to be collected within 60 days in store. Unattended item will be send back to HQ.
How much do you charges?


Ship to Us
Repair Service
Return to Customer
Under Warranty
Borne by Customer
FREE


for manufacturing defects

FREE


within Malaysia

Repair Service
Borne by Customer
RM15/RM30/RM45
FREE


within Malaysia
Limited Warranty Terms & Conditions
This One (1) Month Limited Warranty apply to Greenology products distributed by G&C Distribution Sdn Bhd in respect of purchased from an authorised dealer.

This Limit Warranty covers defects in material and workmanship, under normal and proper installation, use and service.

The Limited Warranty does not cover:
a) Any unauthorised repairs or modification to the unit.
b) Product misuse, negligence, wear and tear, accident or damage occurred during transit by or from the Purchaser.
c) Attack by household pests, fire, flood, lightning, natural disasters, pollution, abnormal voltage, or used with generator.
This Limited Warranty will be null and void when:
a) Serial number on the product and warranty card has been altered, defaced or removed.
b) If any terms contained in the warranty has been altered or modified in any way without the prior written consent of G&C Distribution Sdn Bhd.

Please retain your purchase receipt for verification purpose and keep the original packaging of the product for warranty claim.

Under Warranty Period will provide labour and repair or replacement of defective product or parts thereof covered by the Limited Warranty without charge. Any insurance, handling, transportation charges in respect of the servicing of the product shall be borne by the Purchaser.

G&C Distribution Sdn Bhd reserves the right to repair the product or relevant part with the same or equivalent product or part, rather than replace it. Replacement of the product or a part under the Limited Warranty does not extend the Warranty Period.